2016 VMGA Education Symposium
--now completely sold out!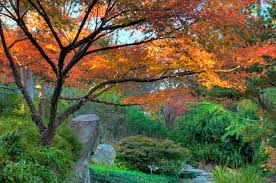 Photo: www.lewisginter.org
"Educating the Public through Gardens"
Maymont and Lewis Ginter Botanical Gardens
September 17, 2016
Richmond, VA
THIS EVENT IS COMPLETELY SOLD OUT!
Attend this unique event meant to increase your knowledge – and for fun and enjoyment of great gardens! You'll hear a lecture and be guided through the gardens of either Maymont or Lewis Ginter Botanical Garden, have lunch on your own as you travel to the other location for an afternoon lecture and tour. The lecture and tour have been designed for you to learn more about educating the public through gardens, but also for you to join fellow Master Gardeners on tours of two of Virginia's premier botanical displays.
Early registration for the day's event is $40. If you are a VMGA member, you will receive the discounted rate of $30 for early registration. If you wish to receive the discounted rate, you may join VMGA before registering for the event. Registration includes tours, lectures and water stations at both sites, and admission to Lewis Ginter.
Registration is limited to 60, and will be first-registered, first reserved. Early registration may only be done online through PayPal. Note that you do not need a PayPal account; you can use any credit card. If the limit of 60 is reached through early online registration, there will be no paper registrations, so please use the electronic method.  There will be NO ONSITE registration.


The Details – Schedule, Locations, Speakers
The Schedule 8:30 am – Arrival and registration at assigned site (either Lewis Ginter or Maymont) 9 am – Lecture and tour at first site 11:30 am – End of first site tour. Depart promptly for second site, lunching along the way on your own 12:45 pm – Arrive at second site 1 pm – Lecture and tour at second site 3:30 pm – End site 2 tour.
---
Maymont – A World of Gardens in One Estate
1700 Hampton St,
Richmond, VA 23220
| | | |
| --- | --- | --- |
| Join Peggy Singlemann, Maymont's Director of Horticulture and co-host of WCVE's "Virginia Home Grown," to learn how Maymont exemplifies the influence of international garden design on the landscape. Ms. Singlemann will lead a walking tour of the hilly estate following a presentation on Maymont's varied gardens. (PLEASE NOTE that this is a walking tour and the grounds are hilly. You must be physically able to keep up with the touring group.) The 100 acres of Maymont's unrivaled gardens and landscapes feature numerous attractions. The grounds and gardens of grand trees and diversity of plants are described as "expansive, unique, well-maintained and ever-changing." Begun in 1886, the "luxurious" grounds were developed to compliment the opulence of the Gilded Age mansion. "Maymont's grounds are diverse, with high bluffs, massive rock outcroppings, streams and ravines. Its expansive lawns are interspersed by gazeboes, statuary, meandering walkways and various garden ornaments." Featured are the Italian Garden, Japanese Garden and Arboretum, with many smaller specialty gardens. For more information, visit their website at https://maymont.org/estate/gardens. | | Peggy Singlemann |
---
Lewis Ginter Botanical Garden – Getting to Great, Growing the Garden
1800 Lakeside Ave,
Henrico, VA 23228
Enjoy a lecture by Grace Chapman Elton, Director of Horticulture at Lewis Ginter Botanical Garden before touring with members of the Garden's horticulture staff. Ms. Elton's strong background in public gardens will be of great value as she provides an overview of recent garden design projects that enhance the guest experience, connect people and plants, demonstrate sustainable choices, and build focused collections – all objectives of our EMG demonstration gardens! Under Ms. Elton's guidance, Lewis Ginter was named by USA Today as "#4 Best Public Garden in North America." The tour of the gardens will highlight several of these recent projects, with an emphasis on the design choices and ongoing refinements.
Besides the emphasis on public education, Lewis Ginter is a fantastic place to learn about plants. You'll see world-class botanical displays in many of the themed gardens. Lewis Ginter has options for lunch, should you chose to dine at the location. The special exhibit of "Nature Connects®: Art with LEGO® Bricks" should still be visible! Visit Lewis Ginter's website at http://www.lewisginter.org.