Virginia Master Gardener Gear
VMGA's Fund Raising Committee sells Master Gardener gear to benefit the State Coordinator Endowment. Shirts and sweatshirts lare available online and at our meetings and events. Order directly by using the Order Form and select the delivery option you arrange – pick up or shipped to you at a cost of $6 for most orders. If you don't plan on traveling to the meetings or events, check with your unit rep to see if they will pick up your order for you. The final cost will depend on your delivery method. Checks should be written to VMGA.
Sweatshirts
VMGA is now offering crew neck and zip-up, hooded sweatshirts.  These are great for those chilly evenings or rainy days manning your Master Gardener information booth. (Or for a warm snuggly at home!)
T-Shirts
Master Gardener short and -- now-- long-sleeve t-shirts are available to identify your volunteer affiliation. The Virginia Master Gardener logo appears on left front as a small logo and large logo on the back of shirt. The t-shirts are the same Gildan Ultra Cotton as the previous VMGA t-shirts, but Gildan is now using finer cotton so these feel softer. They are pre-shrunk and our experience is that they do not shrink even after repeated washings.
We want you to be satisfied with your selection.  Please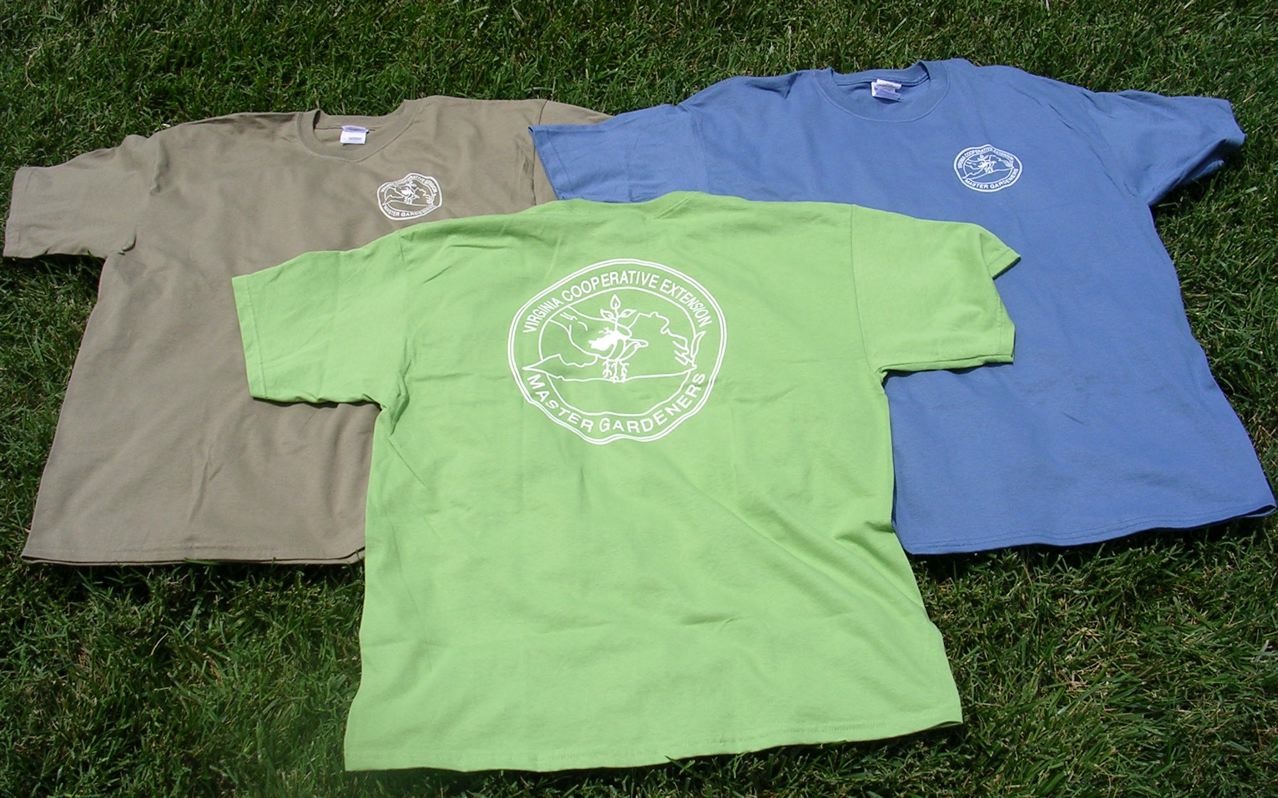 consult the Size Chart at the bottom of this page!
T-shirts are available in Unisex and Ladies/Misses styles. The difference between the Ladies/Misses styling and the Unisex styling is:
The neck is a tiny bit lower, so no more choking!
The length is a bit shorter, hitting at the hip so they aren't dress-like, nor do they hug the hips.
The chest area is more forgiving.
The sleeve length is a bit shorter and more fitted, so if your upper arm is well-developed, you might consider a bigger size.
T-Shirt and Sweatshirt Colors
Consult the order form as they change from time to time
Shirt Size Chart
We strongly suggest you compare measurements to the following chart.  Lay one of your well-fitting shirts on a flat surface for measuring. The first number is the chest width on a shirt laid flat (so half of a normal chest measurement). The second number is the length from neck to hem.  Chart was adapted from http://issuu.com/mygildan/docs/gildan_usa_2014.
| | | | | | | |
| --- | --- | --- | --- | --- | --- | --- |
| | | | | | | |
| Unisex T | | | | | | |
| Ladies T | | | | | | |
| Misses T | | | | | | |
| Sweatshirt | | | | | | |